Beauty Spa and Holistic Specialist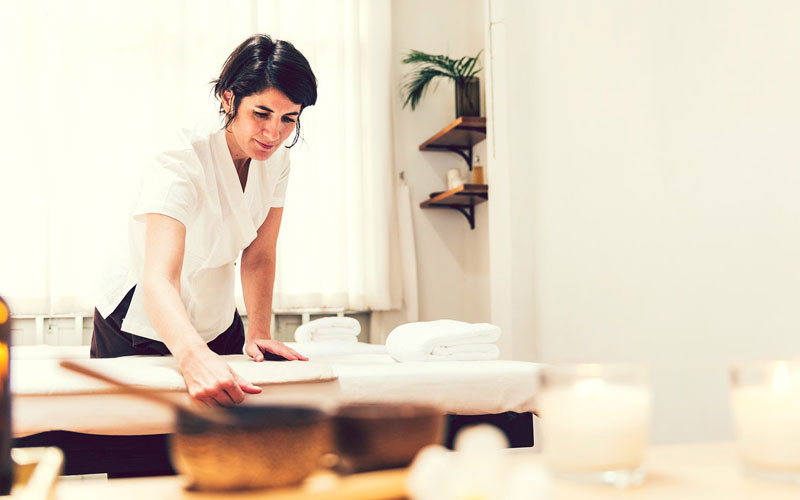 This course of specialization for the profession of clinical and technological beauty therapist stems from the desire to offer a valid training opportunity to those who already possess an adequate professional experience in the aesthetic sector so as to achieve in-depth and specialized knowledge in step with the new market and social needs, which are currently required and useful to qualified beauticians.
REQUIREMENTS FOR ADMISSION
Certificate of regional professional qualification.
Declaration of awareness and acceptance of the School own rules. Verification of theory (written and oral) and assessment of practical skills, in order to verify the level of previous preparation.
MODE
The course lasts 300 hours, two days vertically for about three months.
Absences must not exceed 20% of the total number of hours of the course.
THEORETICAL AND PRATICAL TEACHINGS
  Occupational safety and environmental Hygiene (6 ore theory)
  Professional Ethics and Privacy protection (4 hours theory)
  Posturology applied in aesthetics (20 hours theory and practice)
Anatomy, Physiology (10 hours theory)
Anatomy, Physiology in massage (10 hours theory and practice)
Phytopreparations and aromatic essences in cosmetics (6 hours theory)
Phytocosmetics techniques and practice (10 hours theory and practice)
Holistic Philosophy techniques and treatments used in aesthetics (5 hours theory)
Bach flowers and their use in aesthetics (10 hours theory)
Ancient Chinese tradition and main treatments (13 hours theory and practice)
The basic principles of Ayurveda and its use in cosmetics (20 hours theory)
Anamnesis and holistic cosmetic facial treatments (15 hours practice)
Ayurvedic face and head treatments (15 hours practice)
Anamnesis, application and execution of various holistic body treatments (15 hours practice)
Ayurvedic body treatments (20 hours practice)
Massage various holistic disciplines (55 hours 20 of which in business simulation with external models)
Aromachology and environment scents (10 hours technique and practice)
Treatments with Tibetan bells and sound Massage (6 hours practical technique)
Techniques of energetic rebalancing, Mindfulness and breathing exercises (8 ore practical technique)
Harmonization and balance with Crystals (5 hours theory 8 hours practice)
Maharishi Transcendental Meditation (5 hours theory and practice)
Correct use of equipment and facilities to contribute to well being: saunas, steam baths, solarium, whirlpool, emotional showers (4 hours theory and 6 of practice at an equipped facility
Use of equipment for postural exercises (6 hours practice)
Cupping (4 hours theory 8 practice)
Info:
Tel: 0102470546 / 3271466019
Mail: segreteria@lykeion.it